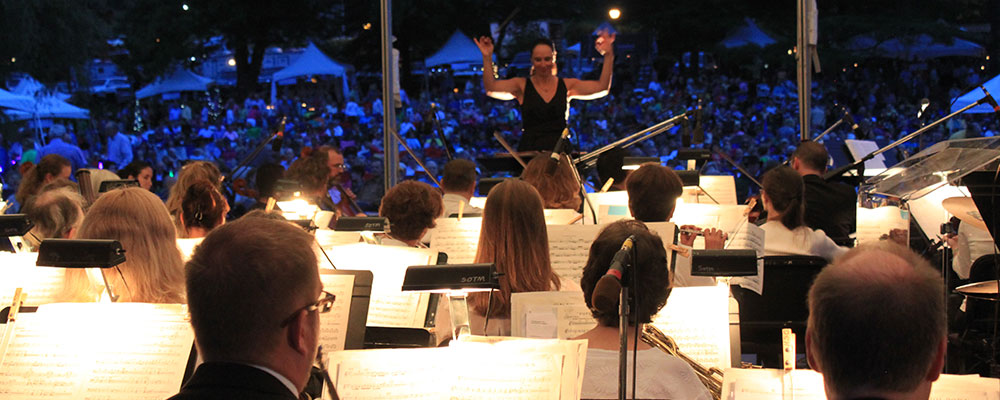 Symphony of the Mountains has a strong and proud heritage. What began as a community orchestra in 1946 has grown to a fully-professional, regional orchestra serving Northeast Tennessee, Southwest
Virginia, and Western North Carolina. The three pillars on which we stand are Entertaining, Educating, and Enriching.
Entertaining
Today, Symphony of the Mountains consists of more than 90 professionally paid musicians led by Conductor Cornelia Laemmli Orth. The Symphony performs throughout the Mountain Empire region and strives to reach even the most rural areas. Recent additions to the Symphony of the Mountains
annual repertoire include three outdoor summer concerts; Symphony by the Lake at Chetola Resort in Blowing Rock, NC, a free concert on the lawn at the University of Virginia's College at Wise in Wise, VA and our newest summer concert at Allandale Mansion in Kingsport, TN; a Brass Quintet that
performs throughout Northeast Tennessee and Southwest Virginia; and a biennial collaboration with Barter Theatre.
In addition to playing symphonic orchestral music, we collaborate with world-renowned soloists such as Charlie Daniels, The McLain Family Band, Emmet Cahill, Edgar Meyer, and The Krueger Brothers with whom in addition to U.S. performances, we presented a concert tour in Switzerland as the first TN/VA based orchestra to perform abroad.
Educating
Throughout the decades, an overarching goal of the Symphony has been to provide musical enrichment and empowering opportunities to young people. To that end, 1965 brought about the formation of the
Kingsport Symphony Youth Orchestra which provided area youth an opportunity to hone their musical and performance skills. With more young musicians than space in our Youth Orchestra, the Symphony of the Mountains created the Primo Orchestra for younger, up-and-coming musicians. The Youth Orchestras now consists of 120 young people from throughout our region.
To further our endeavor to change as many lives as possible through the power of music, we present annual Family and School Concerts that bring music to school children who might not otherwise have the opportunity to hear a live symphony orchestra, provide free musical instruction to high-risk children at their most vulnerable time in the learning process and offer a Free Student Ticket Program as a natural outgrowth of our commitment to bring top-quality classical music education to our region.
Enriching
In 1998, the Symphony Board of Directors added to their long-range plan the goal of becoming a fully-professional orchestra for the entire Northeast Tennessee and Southwest Virginia region; a service area of approximately 450,000 citizens. By 2003, the Kingsport Symphony Orchestra was renamed
Symphony of the Mountains to reflect the new breadth of the service area.
Throughout the years we have continued to grow and expand strategically in a way that best serves additional citizens and areas while being true to our core mission and values. We have been recognized at a state level not just for the number of collaborations and community partnerships we incorporate into our season, but for shattering geographical boundaries that often restrict other organizations. These partnerships allow us to make introductions across those boundaries that benefit every community we
touch.
With your continued support, we will continue to serve our region for many years to come.
---
Cornelia Laemmli Orth, Director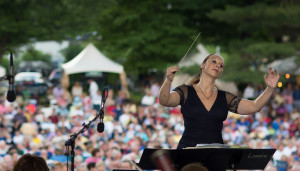 Cornelia Laemmli Orth is in her fourteenth season as Music Director of Symphony of the Mountains and in her fourth season as Music Director of the Cayuga Chamber Orchestra in Ithaca, NY.
In addition to Masterworks Series, she has developed new series of Summer Outdoor, Family, Young People, Pops, Patriotic and Cross-Over concerts. World renowned soloists are regular guests with Symphony of the Mountains. As an advocate for Contemporary Music, Cornelia brings a variety of new music to the region. Her concert lectures, involvement with area schools, colleges and universities, speeches for civic organizations, regular TV and radio appearances and collaborations with regional art organizations have made her a vital part of the community.
During the 2019-2020 Season Cornelia will have her debuts with Opera Ithaca in Ithaca, NY and with the Kansas Wesleyan University Orchestra in Salina, KS.
In October 2017, she appeared as guest conductor with the Brevard Philharmonic in Brevard, NC.
From 2010-2012, she held the position of interim music director for the Appalachian Philharmonic and the Appalachian State University Opera Program in Boone, NC. She resumed these responsibilities for the 2015-2016 season, and serves now on the advisory board for the Hayes School of Music.
During the 2014-2015 Season, Cornelia had her debut as guest conductor with the Asheville Lyric Opera in Asheville, NC. Prior to her engagement with Symphony of the Mountains, Cornelia held the position of music director and conductor of the Oak Ridge Symphony and Choir. She served as Associate Conductor and later Principal Guest Conductor of the Knoxville Symphony from 2002-2008 and since then has had several appearances with this orchestra.
In Europe, she was music director of the Operetta Theatre in Moeriken, Switzerland, guest assistant conductor under Philippe Jordan at La Scala in Milano, Italy, worked with the Bohuslav  Orchestra in
the Czech Republic, and conducted many concerts with choirs and ad hoc orchestras with musicians from the Zurich Opera House and the Tonhalle Orchestra.
Cornelia received her Lehrdiplom in piano from the Conservatory at Winterhur and graduated from the Conservatory and University in Zurich with her Masters in Music Education and Choral Conducting.
She obtained her Masters in Orchestra Conducting from Northwestern University, where she studied under Victor Yampolsky. In a variety of workshop settings, she studied under Larry Rachleff, Marin Alsop, Joann Falletta, Robert Spano, Kirk Trevor, Tsung Yeh, Milen Nachev and Johannes Schlaefli.
Cornelia convincingly combines the classical-romantic tradition of her old-world origins with the unique American flavor that her international background and extensive work experience in her adopted country has provided and is a sought-after guest conductor in the USA and in Europe.