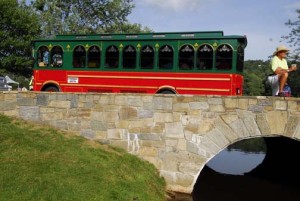 Shuttle service, provided by Air Haven Limo and Trolley, will run from the American Legion Hall parking deck and the BRAHM parking deck as well as from the Food Lion parking lot. Use of the shuttle is strongly suggested. The shuttles begin at 5:30pm.
Will Call ticket pick up will be at the Blowing Rock Chamber of Commerce located at 132 Park Ave, Blowing Rock, behind the Blowing Rock Market on Main Street.  We are creating a "drive-thru" for Friday, July 28th, the day of the symphony.  Convenient parking is just down the street at the parking deck by the American Legion Hall where a shuttle will pick you up.
A NEW SHUTTLE HAS BEEN ADDED! We have added an additional shuttle from Tweetsie Railroad Parking Lot to the Tanger/Chetola back gate entrance.   The shuttle will run a circuit from Tweetsie to Tanger's back gate and with just a short walk, you will arrive at the lawn for the Symphony.  Because this is new, we suspect this will your best bet for shuttle service quickly!
NEW PARKING OPTION! A limited amount of additional parking is available across the lake at Chetola for $10 per car.  Call or stop by the Chamber for this parking pass.
LIMITED additional parking is available at Tanger Shoppes on the Parkway. Please be courteous and save the areas next to the stores for shoppers OR shop at Tanger prior to coming to the Symphony by the Lake!
Parking at Chetola Resort is reserved for VIP's with a special permit and handicapped attendees only.  Due to the overwhelming number of handicapped attendees, we strongly suggest use of the trolley service at Food Lion, one of the parking decks or Tweetsie. Many of the spaces at Chetola are quite a distance from the Symphony lawn.
Chetola has only one exit for vehicles and we do the very best we can to expedite your departure.  Parking offsite is your best option.